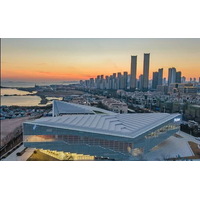 Digitization and modularization of supply management has come a long way since I first started my first role in sourcing back in the early 1990's. In the past 25 years, we have seen an exponential growth and acceleration in processes, speed, and efficiencies that now are truly taking advantage of the digital tools, analytical capabilities, and optimization enablement of our electronic commerce aspirations.

Haier's Digital Mandate from Its Customers
Haier has created a bold vision with its own digital mandate. Haier has taken a dramatic transformation vision on its digitization and implemented this across the board, and integrated with the its entire ecosystem of customers, vendors, partners, shareholders and employees. This transformationhas its roots in the culture of Haier, and Haier's Rendanheyimanagement model which began back in 2005. Rendanheyi simply is:

"Ren" in Rendanheyi, is a reference to each employee
"Dan" is the needs of each user or customer
"HeYi" is the connection between employees, users or customers
The Rendanheyimanagement model is developed by Mr. Zhang Ruimin, Chairman and CEO of Haier Group. It is about decentralization and transforming each department of Haier into micro-enterprises, with the passion and entrepreneurship of start-ups. It is aboutcustomer centricity at its core, and about responding to users' needs. Many companies talk to customer centricity and acting with speed and execution to deliver on this, but Haier is one that is willing to put their customers first, even above their own shareholders. This has allowed Haier to execute a vision and agenda that is at once top-down and heavy handed, but concurrently, a vision that is focused on the right values – Haier's users and customers.
Haier has successfullygrown into the world's largest major appliance manufacturer in the past 34 years, has over 10% of global market share, and is still the fastest growing appliance company globally. This tremendous success story and growth has been led by Mr. Zhang Ruimin and his strong business management philosophies. But ithas also been the strong functional capability in sourcing that is part of this success story.The sourcing organization, and its systems/processeshas continued to evolve and are supporting Haier's continued growth and its focus on its customers.
As an example, every organization deals with data, but it is how those organizations are able to analyze and use that data that is critical to success. Haier's current procurement system, Haidayuan, is state of the art system providing real-time data and real-time access. If I think back on most sourcing and procurement systems that I have worked with, the Haier's Haidayuan system is truly a manifestation of what every sourcing and procurement leader, CPO dreamed. Haidayuan adopts a comprehensive evaluation method of TQRDC (Technology, Quality, Responsiveness, Delivery and Cost) along with 19 vendor criteria. The data feeds and the reporting are real-time, without any manual manipulation or adjustments. Not an easy task given the big data involved, and the information system capability to consolidate such data in real time.
But Haidayuan is not a single system operating independently. For a digitalization effort to be successful, Haier drove digitalization across all functions, and most important from the end-user up. Information from a broken component at an individual end-user in China is collected and shared among 28 different Haier systems. If the component is deemed to be a vendor quality issue, the impact on the vendor scorecard is real-time and impacted immediately. The ordering and replenishment system is also tied intimately into the Haidayuan platform, which decision making based on vendor rule sets, for new orders, stop orders, replacement orders, vendor notifications. It is the transparency of the Haidayuan system that is truly empowering and enabling Haier to drive speed and performance improvement in its supply chain.
Faster reporting with the data from Haier's Haidayuan platform has the enabling capability to generate enormous potential business benefits. With the ability to drill down to the level of detail that we can see in its online Haidayuan system, does the organization structure and delegation of authority, to allow for the "empowerment of the data". The systems enable the organization and business to grow and give it the data, metrics and also the resources to exact change and process improvement. Haier calls this "small data" not big data. It is about the ability to use small, customizable data, that the internal customer needs.
One example of this is the vendor factory audit process. A necessary but sometimes lengthy process to complete, it is one of the first tollgates for the sourcing organization that has benefited from the digitization process at Haier. The on-boarding and qualification of new factories for Haierpreviously took 180 days, but this process is currently 45 days, or 25% of what it previously took. The ability to coordinate work management with different functional departments has streamlined this process through the use of automated workflow management.Key again to this process is the transparency of both the people and teams working on each workflow as well as who is holding up the workflow.
Modularization as a Differentiator
Along with the Haidayuan platform, another critical initiative in Haier has driven growth and productivity and growth for Haier – Modularization. Although modularization in the auto industry has been around since the mid-1990's with its start from two German automotive manufacturers, Volkswagen and Mercedes-Benz, Haier is the first to drive modularization in the appliances industry. Modularization of sub-assemblies and their components in the automotive industry allowed for many business benefits, as well as driving design and development capability into vendor partners. Haier has taken the leadership in the appliances industry on this same initiative, allowing its organization and resources to be more focused on more value-added activities. It also has its foundation in Haier's culture of Rendanheyi,
Along with benefits of speed and product development cycles, this has also allowed Haier to optimize resource allocation and reduce headcount. Haier currently has 1100 modular vendor partners with a buy of 60B RMB (8.7B USD).
The power of modularization and buying larger, more complicated sub-assemblies, has allowed Haier to manage more with less. Tier 1 vendors now manage Tier 2 and Tier 3 vendors, who were previously all direct vendors to Haier. This is similar to what was seen started in the German automotive industry, now utilized and assimilated into the appliance industry. Tier 1 modular suppliers participate in the front-end design and development of modular systems and assemblies that provide solution-based capabilities to Haier's supply chain – all integrated through Haier's modular interface in Haidayuan. The collaboration effort is done online and digitally through Haier's Haidayuan platform allowing R&D, production, vendors to discuss, collaborate, and develop solutions in a real-time, market driven, market facing environment.
This drive to modularization has its roots again in Haier's culture of taking down the traditional silos and barriers and building from the ground up around the user and end consumer. Haier has transformed the R&D efforts from top-down, the customer and user driven, driven by an ecosystem that allows for collaboration, creativity and customer-centricity to flourish. This has significantly sped up new product development cycles in Haier. As an example, Haier wanted to develop a new type of evaporation tube for its refrigerators and utilized the modularization platform and global vendor partners to develop this new product. Global vendor partner Henkel from Germany and UNIX from Italy were awarded the bid for this new product development effort through an online bidding process in Haidayuan. This project ended up providing Haier was additional capacity as well as a new product development in record time.
Summary
Although somethings operate in traditional linear series, the digitized, modularized world we livein today, operates with boundarylessness and in concurrent matrixes. Haier has evolved from aregional China refrigerator manufacturer in the world's largest appliance company, driven by its Rendanheyi management model and by its own customer mandate. Consumers need that human touch and interaction, and Fan Hua, General Manager of Haier Sourcing speaks on his own processes and systems to affect the functional vision and mandate of Haier, they have "removed the human touch" in the internal processes and focused it on where the human touch is needed the most – on its customers.

Contributed by Raymond J. Chou
Raymond has over 25 years of experience in senior leadership roles in Asia across several industries, focusing on global sourcing, supply chain, operations leadership, cost management, product development, merchandising, marketing, branding, portfolio management, and strategy. He has managed some of the largest sourcing organizations in Asiafor GE, DuPont, and The Home Depot. Raymond founded and currently leads RCC, a leading firm specializing in operational excellence, performance improvement. Raymond is also the co-founder and Chairman, ISM China, Emeritus and has previously served on the Board of Governors of AmCham Shanghai.
---