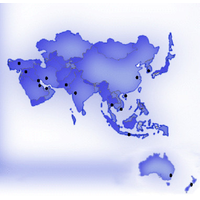 TAKING advantage of lower labour costs, favourable demographics and a growing consumer base, South-East Asia is next up in the flying geese formation of Asian economies.
But significant investment will be needed for the region to achieve its potential and diversifying sources of foreign capital will be a key objective.
It has been nearly a decade since the Global Financial Crisis (GFC), and yet the world economy does not appear to have fully shaken off the lethargy that followed it. Despite the advanced countries showing some signs of improvement, US GDP growth has yet to break through the 2.5% range, and the eurozone is only now beginning to show signs of life.
Meanwhile, debt accumulation in China has necessitated a growth moderation there that further dampens global demand growth.
Besides a spurt in 2010-2011, real growth of global trade in goods and services has fallen to an average of 3.3% since 2012, compared to 8.4% in the five years preceding the GFC.
The South-East Asian economies have not been insulated from the impacts of these developments.
And yet these economies appear to have found a fairly smooth way forward. Besides lasting lessons in economic and financial policies from their own crisis in 1997, these economies are benefiting from longer term trends that are set to push the region forward as one of the main sources of global growth.
Already, the six largest economies in Asean (Indonesia, Malaysia, Singapore, the Philippines, Vietnam and Thailand) have averaged 5% GDP growth over the past five years compared to around 1% growth for the top eight economies in Latin America.
The global economy will continue to have its booms and busts but demographics, geography, and investment momentum are all working under the radar for the region, and will continue to do so for the foreseeable future.
This will have strong implications for demand, not only for consumer and capital goods, but also for commodities moving forward.
Asean is up next in the flying geese formation
In the 1960s, Japanese economist Kaname Akamatsu suggested that the general pattern of development in East Asia resembled flying geese. Japan industrialised first, beginning with lower-cost manufacturing before gradually moving up the value chain. As Japan's costs of production rose, the Tiger economies (Hong Kong, Singapore, South Korea and Taiwan) took over the mantle and began producing the lower end goods that Japan used to make.
As the Tigers themselves developed, unit labour costs there increased, moving those countries up the value chain as China took over the lower end.
Now China's wages are rising as the economy advances to higher value-added products. Given the size and scope of China's manufacturing, its move up the value chain will benefit emerging markets globally.
But the South-East Asian region has some undeniable advantages, most notably its geographic proximity and existing connections to the supply chains of Japan, the North-East Asian Tigers, and China.
The strength of these ties is bolstered by the Asean+3 Cooperation (Asean, China, Japan and South Korea), which will help lower transport and trade costs within these supply chains.
But the region's cost advantages go beyond geography. Demographics in the Asean region are very favourable. While the World Bank projects the proportion of working age people in China will fall from three quarters currently to less than 60% by 2050, the Asean 6 will only see a slight drop from 63% to 61% (Malaysia was excluded due to lack of projected data).
This is due to young and growing populations, rather than slower aging relative to China. In fact, China's absolute number of working age people is projected to drop by 20% from 2010 to 2050, compared to 27% growth for the Asean 6 over the same period.
The demographics are particularly favourable for Indonesia and the Philippines, where the working age populations are set to grow by 30% and 70% respectively over the next three decades. Vietnam's labour force is also projected to rise by 12% over the same period.
A large and rapidly growing working age population will allow South-East Asia to maintain relatively low unit labour costs for decades to come, adding to the geographical advantage of being on China's doorstep.
Granted, not all Asean economies will see young and increasing populations. Singapore is already aging, and Thailand will follow suit after this decade. But these are economies that have had their growth spurts earlier and currently have higher per capita incomes than the aforementioned three.
Their higher level of development allows them to push up higher on the value chain, and they have other natural advantages. Singapore is the leader in finance and services, Malaysia is the only net energy exporter in the region, and Thailand has close economic ties with Japan. It is also closer to China geographically than Indonesia and the Philippines.
Unleashing the investment engine
Youthful populations and rising incomes benefit an economy through relative unit labor costs. They also unleash the purchasing power of consumers, which becomes a crucial source of economic activity in times of sluggish global trade. Already the whole Asean region has been benefiting from this engine, which has allowed it to post enviable rates of growth over the past half decade.
Asean's beneficial demographics and location have not gone unnoticed in the global investor community. S&P Global Economics has previously highlighted significant investment from South Korean and Japanese companies into Vietnamese assembly plants for electronics, such as mobile phones.
But this trend has not been limited to Vietnam, nor to the electronics industry. Inward foreign direct investment into the Asean 6 went from an average of US$39bil per annum over 2000-2009 to an average of US$114bil per annum since.
Moreover, strong consumer demand across the region, boosted by the launch of the Asean Economic Community, will likely diversify the set of investors from traditional advanced economies (including Japan, South Korea and Singapore), to more intra-Asean capital flows.
FDI into new production, logistics and business processing facilities in the region is also being complemented by strong efforts to address infrastructure shortfalls. Indonesia, the Philippines, Vietnam and Malaysia have all rolled out infrastructure programmes that increase connectivity, not only domestically but also across borders.
China's One Belt, One Road initiative is also set to boost connectivity in the Asean 6, and in rapidly growing frontier markets, such as those in the Mekong region.
Further, FDI stimulates domestic investment and economic activity, resulting in new malls, residential areas, cell towers, offices and other businesses.
The financing gap
Despite the bright long-term prospects, the challenge in the region has traditionally been financing, given that some economies (particularly at lower levels of development) run deficits or relatively small surpluses on their fiscal and current account balances. Savings are typically not enough to cover the investment needs. This is why foreign investment has so far played a key role in filling the financing gap, and the region's policy makers have been very sensitive to changes in the strength and direction of capital flows.
In the absence of larger domestic savings to fully cover current consumption and investment needs, one key strategic objective is to diversify sources of foreign capital. Here, AEC negotiations and implementation are key, particularly regarding the opening up of domestic banking and financial markets to regional players.
Though the specifics will take a while to develop and the road is fraught with obstacles, this is a long term positive for the Asean region, as surplus funds in one economy
would more easily be able to find productive uses in deficit countries.
Notwithstanding the challenges ahead, the advantages of the Asean region have made it a non- negligible source of demand for consumption goods, machinery and equipment, commodities and construction materials.
Paul Gruenwald is S&P Global Ratings chief economist of Asia-Pacific.
---